News
►

ITMARK Certifications
Strongstep
is proud to present the
outcome of project Actor
ITMARK
from
Inova-Ria where the first cluster of innovative
technology companies has now been
successfully completed, for the first time in
Portugal. All the assessed companies have
Companies involved in the
certification
►

Agile Portugal 2012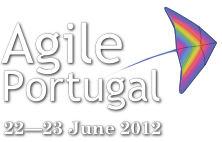 Strongstep supports Agile Portugal 2012,
the third edition of the premier international
conference in Portugal where the agile
community get together with invited leading
experts.
►

Interview with Director of SEI EU
Strongstep interviews Jay Douglass, Director
What are the benefits of using CMMI for

Services?

Why should a company be certified CMMI

for Services?
► CMMI for Services in Portugal
Strongstep
made one of the first successful
implementations of processes worldwide,
first in Portugal, according to the standard
CMMI for Services evaluated by the SEI...
► Training
Specialized training courses in management
and software engineering.
►